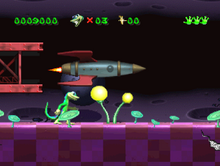 This is the third level of the New Toonland map.
You can get here with a remote that can be found in the Pow! level.
Objectives
Objectives: Find the Remote for The Flatulator (and optionally, Knock! Knock!).
Enemies/Obstacles
Question marks/Tips
"An arrow points down to the desert!"
"Steer blue rockets by standing near their edges!"
Power-Ups
Butterfly
Blue firefly
Flea
Amber balls
Trivia
Rock It! is the only map where rockets can be found.
It's not known what the first Question Mark mean.
Ad blocker interference detected!
Wikia is a free-to-use site that makes money from advertising. We have a modified experience for viewers using ad blockers

Wikia is not accessible if you've made further modifications. Remove the custom ad blocker rule(s) and the page will load as expected.