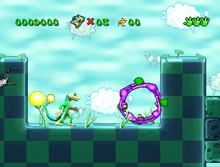 It's a pretty cute level, it has a lot of Frums.
You can get here with a remote that can be found in the Twin Towers level.
Objectives
Objectives: Find the Remotes for Rock It! and Jungle Isle. Also there is a saving tape in somwhere middle of the stage.
Enemies/Obstacles
Frum (in the form of circle too)
TNT (Dynomight)
Spikes
Question marks/Tips
"Tail whip movie cameras to switch secret tiles on and off!"
Power-Ups
Butterfly
Yellow firefly
Flea
Caterpillar
Centipede
Amber balls
Ladybug
Trivia
The level has two seperated ways to go to the exit.
TNTs are respawning along with some enemies if you go far enough.
If you electro-shock Tread TVs the Tread and the TV will be shocked separately.
Ad blocker interference detected!
Wikia is a free-to-use site that makes money from advertising. We have a modified experience for viewers using ad blockers

Wikia is not accessible if you've made further modifications. Remove the custom ad blocker rule(s) and the page will load as expected.