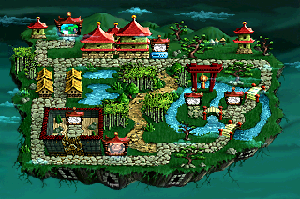 Kung Fuville (aka Kung Fu World) is the fourth world of Gex and is based on the martial arts genre (with the boss level showing kaiju inspirations) .
Background
Gex arrives in Kung Fuville, where he must pass through a city of sumo wrestlers, an underground realm, and a temple to reach the swamp where waits Toxic Turtle and Gex must defeat him to get the remote for Rez Knight Fever (and by extension get access to Rezopolis). There are three central missions to be completed.
Setting
Enemies
Walkthrough
Sumo City
Objectives: Find the Remote for Fish Bait.
Fish Bait
Objectives: Find the Remote for Chop Chop.
Chop Chop
Objectives: Find the Remote for Toxic Turtle.
Toxic Turtle (boss level)
Objectives: Defeat Toxic Turtle. Gain the Remote to Rez Knight Fever.
Areas