Kung-Fu Theater
is a world in
Gex: Enter the Gecko
, themed on martial arts, similar to the first game's
Kung Fuville
. It's a spoof of the modern/past martial art movies, paticularly Jackie Chan and Bruce Lee films. The enemies include ninjas and samurais. This world is very similar to Kung Fuville in
Gex
.
Hint: Tail whip gongs to activate things in the level
Setting
Enemies
Missions
Lizard In A China Shop
Bonus Level: Find The Given Items In Time.
Mao Tse Tongue
Defeat The Deadly Dragon.
Cross The Rocking Pillars.
Samurai Night Fever
Navigate The Great Spinner.

Accessed by crossing the bridge across from the Dojo. Leads past a lava pit, an extra life, and silver remote.

Ride The Swinging Platforms.

Accessed by going behind the starting building, crawling around the back, and hitting the gong.

Climb The Towering Temple.

Requires hitting a gong near the "Ride the Swinging Platforms"
Collectables
Chinese food take-out box
Yin and Yang symbol
Areas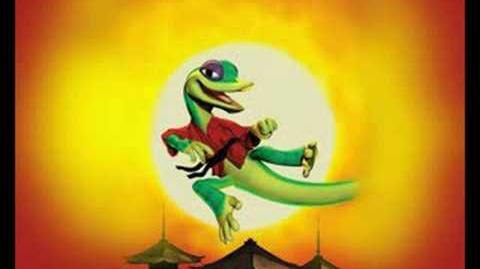 Ad blocker interference detected!
Wikia is a free-to-use site that makes money from advertising. We have a modified experience for viewers using ad blockers

Wikia is not accessible if you've made further modifications. Remove the custom ad blocker rule(s) and the page will load as expected.