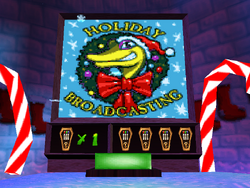 Holiday Broadcasting
is the 1st level/channel in
Gex 3: Deep Cover Gecko
. It is based on shows and films that are traditionally shown during Christmas, hence its name. It requires
1
remote (total) to unlock. Here Gex's disguise is winter sports gear. The level takes place in the North Pole. Gex can also optionally unlock
Rex
by thawing him out from a block of ice he is trapped in, allowing him to be played in the
secret levels
. Freeing Rex will also reward you with three extra lives.
Setting
Enemies
Missions
Totally Scrooged
Create Five Ice Sculptures
Whack the Snowboarding Elves
Defeat Evil Santa
Post-level cutscene (PS1)
Xtra: "Nice work, Frosty. You're getting warmer."
Gex: "Not warm enough. When this is over, I say we perform a few experiments with body heat."
Xtra: "Hmm. Good technique, but that hat does nothing for me. Now how about you focus that extreme sports tail of yours on getting me out of here?"
Gallery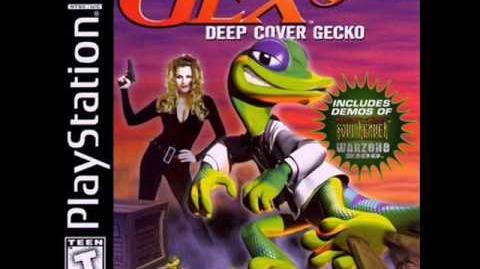 Ad blocker interference detected!
Wikia is a free-to-use site that makes money from advertising. We have a modified experience for viewers using ad blockers

Wikia is not accessible if you've made further modifications. Remove the custom ad blocker rule(s) and the page will load as expected.