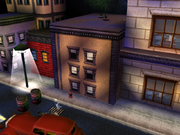 Funky Town
is the third and final sub-hub of
Gex 3: Deep Cover Gecko
. It is based on downtown New York City and the two levels here use the "big city" for their themes, with the exception of the secret level, which has a beach/nuclear waste theme. Here, Gex can access the levels of Gangster TV, Superhero Show and Channel Z itself (once enough remotes are earned).
TV Stages
Gallery
Ad blocker interference detected!
Wikia is a free-to-use site that makes money from advertising. We have a modified experience for viewers using ad blockers

Wikia is not accessible if you've made further modifications. Remove the custom ad blocker rule(s) and the page will load as expected.